Major Aida Nancy Sanchez, Army Medical Specialist Corps, served at the 95th Evacuation Hospital near Da Nang, from December 1970 to December 1971. As the first physical therapist assigned to the hospital, she had to set up a clinic in a quonset hut that had previously served as the Post Exchange. In the meantime, Sanchez treated as many as 70 patients a day, using a ward storage area as an office. This was the first sort of clinic ever established to aid wounded soldiers with physical therapy and recovery.
During Tet, the Vietnamese lunar New Year, hospital personnel were issued "frag" (bulletproof) jackets and helmets. The protective gear was required to be kept close at all times in case of a reoccurrence of the 1968 Tet Offensive. When she left Vietnam she was assigned as the chief of the Physical Therapy Section, Ft. Gordon, GA.
LTC Sanchez, who retired in 1976 after nearly 25 years of service, traveled from her Augusta, GA, home in July 2006 to take part in a presentation of her oral history collection to the Library of Congress (LOC) Veterans History Project. The Women's Memorial Foundation collaborates with the LOC as an official partner, submitting biographical data sheets and oral histories like LTC Sanchez's to their Veterans History Project national registry. "Oral history is a wonderful resource for historians, researchers, students or anyone interested in military women's history during the Vietnam War era," said retired USAF Brig Gen Wilma Vaught, Women's Memorial Foundation President.
Her story is also unique because she addresses a wide variety of historically significant themes, some still common today and others widely under-explored. For example, she provides a new perspective on our country's cultural history through her discussion on the strength of the black power movement in Vietnam. Her memories also shed light on women in the medical specialty professions at an important time during the women's rights movement. LTC Sanchez's interview also brings to life some of the obstacles physical therapists faced in combat zones, including treating patients with all nature of war injuries.
"In the worst possible situation the human spirit comes alive. It is the human spirit that especially showed with the wounded. They were so incredibly poised. There was a beauty and peace about how they accepted their fate. For me, it was not just one soldier. It was a matter of each and every patient that I treated. … I shall always remember the incredible spirit they showed during such a horrendous time. The experience I had with all of these soldiers will never be forgotten."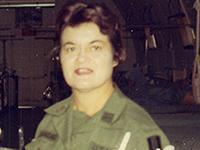 Let us know what you think of our stories by leaving a comment.