Edward Alexander Bouchet graduated valedictorian from Hopkins Grammar School in 1870. That same year, he began his studies at Yale University. He completed his bachelor's degree in 1874. Bouchet made history two years later, becoming the first African American to earn a doctorate degree in the United States. After earning his doctorate in physics, he taught at the Institute for Colored Youth in Philadelphia for more than 25 years.
Born in New Haven, Connecticut, in 1852, Edward Alexander Bouchet is best known for becoming the first African American to earn a doctorate degree in the United States (1876). His father William, a former slave, worked as a servant and later as a porter at Yale University. He also acted as a deacon at the Temple Street Church in New Haven.
The youngest of four children, Bouchet attended New Haven High School from 1866 to 1868. He continued his education at the Hopkins Grammar School, where he studied mathematics and history in addition to learning Latin and Greek. Bouchet graduated valedictorian of his class from Hopkins in 1870.
After leaving the school, Bouchet held a variety of jobs. He worked for Sumner High School in St. Louis, Missouri, and later for the St. Paul Normal and Industrial School in Virginia. From 1908 to 1913, Bouchet served as principal of Lincoln High School.
In poor health, Bouchet retired from work and returned to his hometown of New Haven. He died there in 1918 and was buried by his family without a tombstone. Since his passing, Bouchet has received numerous honors. Yale University installed a tombstone to remember him in 1998, and the school's Graduate School of Arts and Sciences established the Edward Alexander Bouchet Graduate Honor Society in his name. Yale also gives out the Bouchet Leadership Award to academics who help advance diversity in higher education.
"Optics is an example of the different ways a human is able to see things in the world. The same goes for the color of a person's skin and even though optics present that there are differences in color, these do not state that they should necessarily be treated as different."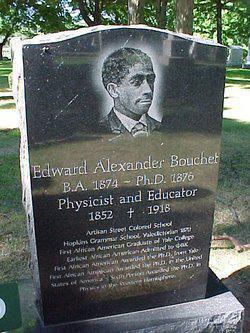 Let us know what you think of our stories by leaving a comment.