In 1885 Mary Fields also known as "Stagecoach Mary", was the first African-American woman star route mail carrier in the United States. Fields obtained the star route contract for the delivery of U.S. mail from Cascade, Montana to Saint Peter's Mission in 1885. She drove the route with horse and wagon, not a stagecoach, for two four-year contracts: from 1885 to 1889 and from 1889 to 1893.
Born around 1832, Fields lived on a plantation in Hickman County, Tennessee, with her parents until the close of the Civil War made her a free woman. Her employment history included emptying chamber pots on the Robert E. Lee when it beat the Natchez in a famous 1870 steamboat race. At the urging of her friend Sarah "Dolly" Dunne, Fields headed west to Montana in 1884 to visit.
Fields proved a woman could do anything a man could do in the untamed territories beyond the Colorado Rockies. Among her many admirers were actor Gary Cooper, who knew her when he was a little boy during visits to Cascade from his family's ranch in Helena. Another fan was cowboy artist Charles M. Russell, who included her in an 1897 pen-and-ink, A Quiet Day in Cascade, which shows a hog knocking down Fields and spilling her basket of eggs.
After ten years of delivering the mail, Mary decided it was time to retire, and she settled down in Cascade, Montana and opened a laundry. She often ended her day with a drink and a cigar at the local saloon with the men of the community. There, she earned respect for her business savvy. She loved baseball and before each town game, she presented the players with buttonhole bouquets from her garden; she also would help out the local mothers if they needed someone to watch their children.
The town adored her. They declared her birthday a holiday and closed the school on that day.
In 1914 Stagecoach Mary died of liver failure. The whole town participated in her funeral.
In 1959, actor and Montana native Gary Cooper wrote an article for Ebony in which he said: "Born a slave somewhere in Tennessee, Mary lived to become one of the freest souls ever to draw a breath, or a .38."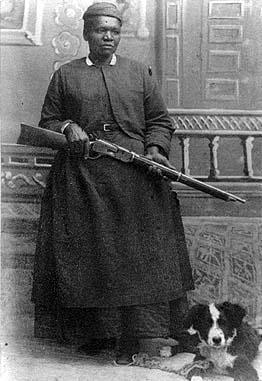 Let us know what you think of our stories by leaving a comment.