Cathay Williams was born to an enslaved mother and a free father in Independence, Missouri in 1844. During her adolescence, she worked as a house slave on the Johnson plantation on the outskirts of Jefferson City, Missouri. In 1861, Union forces occupied Jefferson City during the early stages of the Civil War. At this time, captured slaves were officially designated as contraband and were forced to serve in military support roles such as cooks, laundresses, or nurses. Before her voluntary enlistment, at just 17 years old, Williams served as an Army cook and a washerwoman. In this role, she accompanied the infantry all over the country. Williams served under the service of General Philip Sheridan and witnessed the Red River Campaign and the Battle of Pea Ridge.
Despite the prohibition against women serving in the military, Williams enlisted in the U.S. Regular Army under the false name of "William Cathay" on November 15, 1866. She enlisted for a three-year engagement, passing herself off as a man. Williams was assigned to the 38th U.S. Infantry Regiment after she passed the cursory medical examination. Though this exam should have outed her as a woman, the Army did not require full medical exams at this time.
Though over 400 women served in the Civil War posing as male soldiers, Williams was the first African American woman to enlist and the only documented woman to serve in the United States Army, while disguised as a man, during the Indian Wars. Williams is also the only known female Buffalo Soldier. Williams' determination to serve her country demonstrates the extraordinary feats women have accomplished simply trying to live their lives.
A bronze bust memorial was dedicated to her in 2016 at the Richard Allen Cultural Center & Museum in Leavenworth, Kansas.
"The regiment I joined wore the Zouave uniform and only two persons, a cousin and a particular friend, members of the regiment, knew that I was a woman. They never 'blowed' on me. They were partly the cause of my joining the army. Another reason was I wanted to make my own living and not be dependent on relations or friends."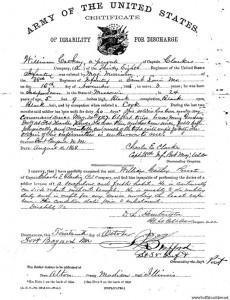 Let us know what you think of our stories by leaving a comment.