Wing Foon Ong was the first Chinese-American, who was not born in the United States, to be elected to a state House of Representatives when in 1946, he ran for the Arizona House of Representatives and won.
Wing arrived in the U.S. ambitious to learn English. He joined his family in Phoenix Arizona because the schools would admit him. Under California law at the time, Chinese children could be (and were) excluded even from segregated schools if they didn't already know English.
In 1943, he graduated at the top of his law class and became an immigration attorney. At the time he was one of only eight Chinese-American lawyers in the U.S.
He served two terms from 1946 to 1950 and as a state representative, he backed welfare, education and job-security measures for those less fortunate.
"As an immigration attorney Ong continued to help other Chinese immigrants from San Francisco who were facing the same difficulties and discrimination that he faced during his own immigration process."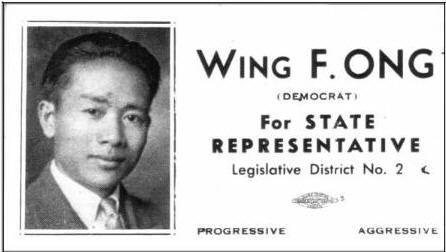 Let us know what you think of our stories by leaving a comment.