Girindra Mukerji was an Indian anti-British revolutionary, organizer, and agriculturist. His article "The Hindu in America" has been widely cited as an early document describing early Indian immigration to the United States. Mukerji was born in India, and according to the San Francisco Chronicle, the son of a "Judge of one of the higher courts."
In "The Hindu in America," an article from the April 1908 issue of Overland Monthly, Mukerji, writes about the Indian presence in the U.S. The editorial note also remarks on the 1907 riots in Bellingham, Washington. Mukerji first discusses the Indian students in Japan, earning an industrial education, and then touches on Indians studying in the U.S.
Mukerji spends part of the essay on the mistreatment of Indian laborers in the U.S. and Canada, as well as the presence of Vedantists in the U.S. There is a brief mention of the Vedanta society's branch in San Francisco, known popularly as "the Hindu Temple."
Mukerji was a student of Professor Eugene W. Hilgard, an expert on agricultural chemistry. In 1907-1908, he received a Master of Science from the College of Agriculture at UC Berkeley; his thesis was entitled "A Comparative Study of Soil Columns in the San Joaquin Valley." University President Wheeler, who was present at his farewell, spoke highly of his work and cited him as a role model for other Indians.
"The year 1901-1902 brought the first pioneer Hindu students to the schools of the Pacific Coast. An organization was launched by one learned Indian -- Swami Ram -- while lecturing in the Western States, to better the condition of these students and to aid in a united effort at higher education."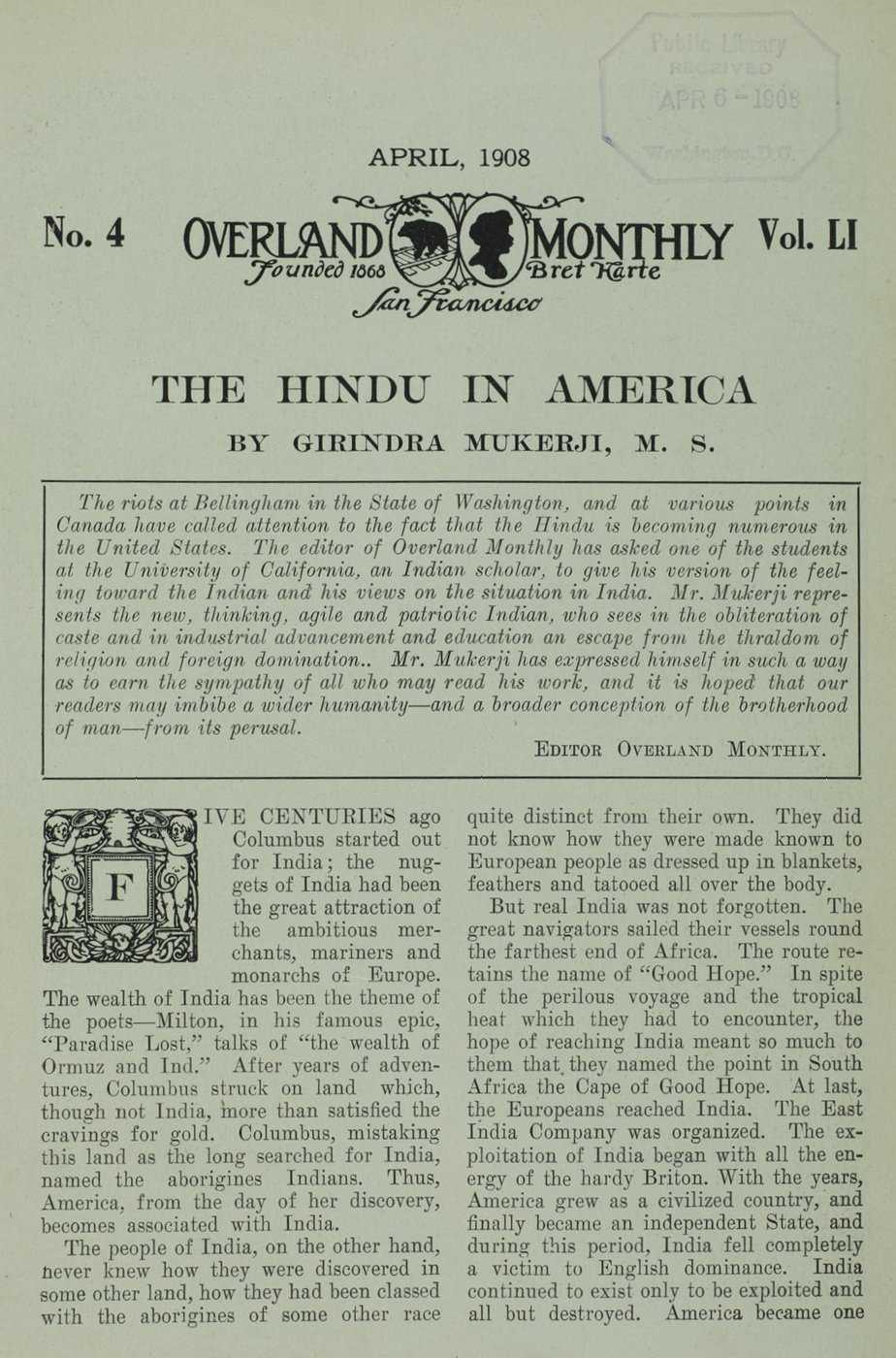 Let us know what you think of our stories by leaving a comment.